"An easy-to-place bulk fill that does not require a capping layer and results in highly esthetic, strong restorations."
A recent evaluation by Dental Product Shopper examined Estelite Bulk Fill Flow through a panel of doctors. The final result was an excellent rating of 4.3 out of 5, making Estelite Bulk Fill Flow a Dental Product Shopper Best Product.
Check out some of the notable features that the evaluators mentioned:
No capping layer needed with a cure depth of 4mm for quick and reliable restorations
Excellent cavity adaptation
Great marginal seal
Minimal shrinkage stress
High wear and abrasion resistance
Only comes in 5 shades with unique chameleon effect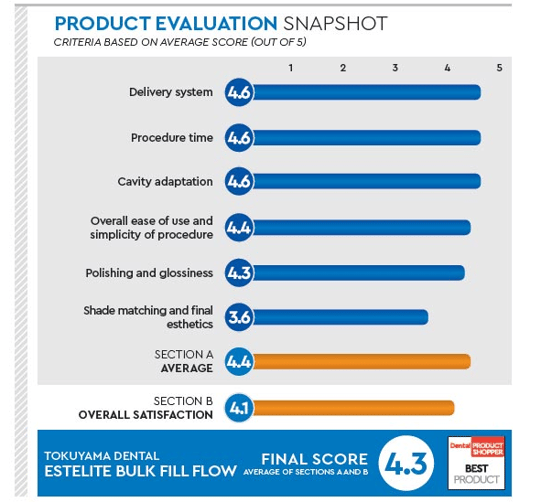 Estelite Bulk Fill Flow is a high-quality bulk fill material that enables doctors to complete large restorations in a shorter and more efficient amount of time. Tokuyama Dental perfected this material through its spherical fillers, which maintain the strength of the composite without compromising the material in terms of shrinkage stress. Estelite Bulk Fill Flow is an excellent composite material to try if you have been considering using a bulk fill material for your restorations.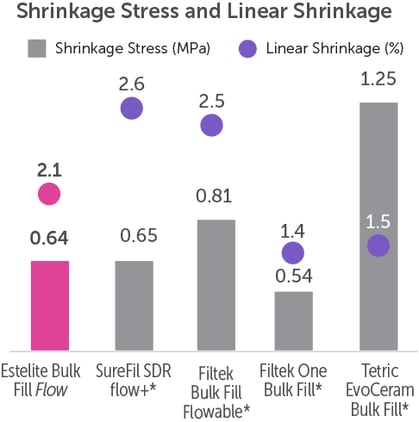 Excellent Wear Resistance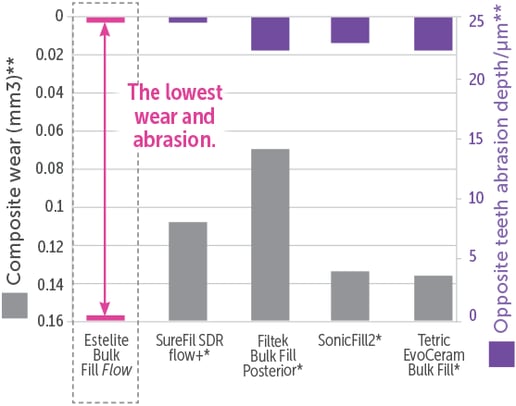 Read the full evaluation on Dental Product Shopper's site by clicking here.
Read Below to Fulfill Your Buy 2, Get 1 Special Offer for Estelite Bulk Fill Flow
USE CODE EBFBLOG
To redeem your special Buy 2, Get 1 offer of Estelite Bulk Fill Flow, click here to fill out your online offer form OR purchase 2 units of Estelite Bulk Fill Flow from your dealer, and email or fax us your invoice at info@tokuyama-us.com or 760-942-7212. Indicate the promo code EBFBLOG and your desired no-charge goods on your invoice to fulfill this offer. Any incomplete submissions will not be processed.
*Limit three offers per doctor. For no charge goods, purchase must be made from dealer between 1/22/20 and 4/30/20. Purchase must be made on ONE invoice. Invoices/redemptions must be received no later than 5/15/20 to claim no charge goods. To receive your no charge goods, fax, mail, or email your invoice and no charge product desired to: FAX: +1 (760) 942-7212. MAIL: 740 Garden View Ct, Suite #200, Encinitas, CA 92024, Attn: EBFBLOG Offer. EMAIL: info@tokuyama-us.com. Indicate promo code EBFB1 on invoice. Incomplete submissions will not be processed. This offer may not be combined with any other Tokuyama offers. No charge goods fulfilled through Tokuyama. Offer can be used with Estelite Bulk Fill Flow. No charge goods must be of equal or lesser value. While supplies last. Please allow 2-4 weeks for delivery of no charge goods. Offer valid in US and Canada only. Participating doctors or dentists are obligated to properly report and reflect any bonus product, rewards, rebates, discounts or other benefit they receive on their submissions to Medicare, Medicaid, state or federally funded healthcare program and/or private insurance.
All rights of evaluation reserved by Dental Product Shopper.