Written By: Dr. Kevin Brown, Bellevue, WA, & Michelle Chan
Technique Article:
Silicone Putty Indexes for Seamless, Flawless Results: Part II
Case #2 - Chipped Incisors
Tokuyama's OMNICHROMA and OMNICHROMA Blocker have been a wonderful addition to my daily restorative armamentarium and made it much easier to predictably place direct composite restorations in all areas of the mouth. In this article I would like to share techniques that have simplified how I restore fractured or worn incisal edges.
Case #2
In this case, the patient was in for a hygiene appointment and during his exam he mentioned that he would like to improve his front teeth before his daughter's wedding [Figure 13]. He didn't want to spend a lot and didn't want to whiten. His wife just wanted his chipped incisors to be improved. I explained the options of composite versus porcelain and he didn't want to drill down his entire tooth for porcelain so he chose to go with direct composite bonding. I took a quick impression before he left his hygiene appointment and made a diagnostic waxup and silicone putty index before his scheduled bonding appointment. For tooth preparation I used a fine grit diamond bur to place a very small 45-degree infinity bevel along the facio-incisal edge. This bevel is important as it will increase the bond strength and fracture resistance, along with aiding in feathering/blending the composite onto the facial surface [Figure 14]. Air abrasion was also used to remove plaque and improve ability to seamlessly blend the composite margin when finishing and polishing. The first layer of composite was OMNICHROMA using the silicone putty index as a guide to shape a thin lingual shelf [Figures 15-16]. OMNICHROMA Blocker was then used as a dentin substitute and feathered slightly onto the infinity bevel [Figure 17]. A final layer of OMNICHROMA was then placed to full contour [Figure 18]. Finishing and polishing was completed with Soflex disks (3M ESPE), diamond and carbide burs (Komet) and composite polishers (Komet). The immediate post op photo shows how nicely and seamlessly the composite blends in [Figures 19-20].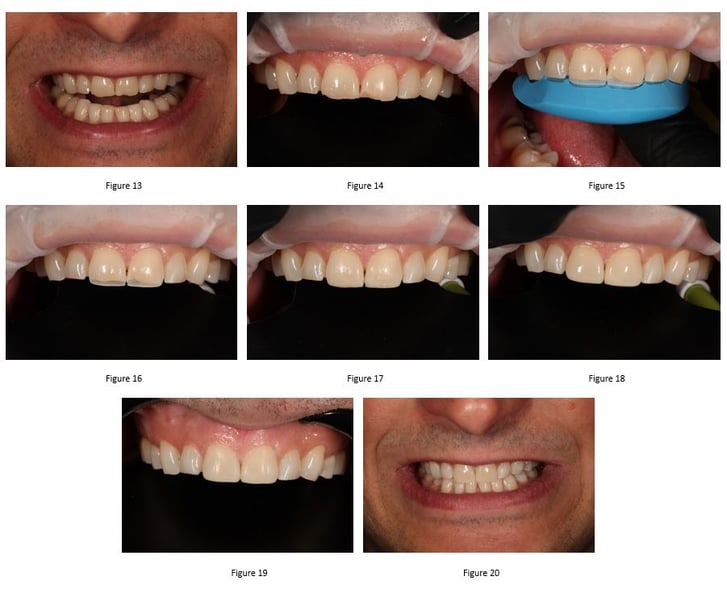 I chose to share this second case for a couple of reasons. First, to demonstrate a few helpful techniques that can be used with any kind of composite, using one shade or multiple shades. The technique of using a silicone putty index increases predictability for placing direct composite in the anterior segment in a variety of applications while decreasing the time it takes to complete the same procedure without an index. Second, to illustrate how well OMNICHROMA works in a variety of procedures on different colored teeth with and without the use of the supplemental blocker. I love to share what I have learned and hope that these tips and techniques will help others in their daily practice.
Read the first part of this article here:
Silicone Putty Indexes for Seamless, Flawless Results, with Dr. Kevin Brown
Case #1 - Diastema Closure