Over 25 billion dollars was spent in 2017 on energy and sports drinks in the U.S. Add to that the growing popularity of acidic Kombucha drinks, along with the steady consumption of diet and sugary sodas, and it is no surprise that tooth erosion, abrasion and hypersensitivity are common realities for dental professionals to manage.
Solutions for acute or chronic pain associated with temperature and air exposures have potential to make us "dental heroes" in the eyes of our patients. What are you currently using as a professional solution to the problem of chronic hypersensitivity? Many over-the-counter products effectively treat mild hypersensitivity, but offering patients a robust solution chairside that provide immediate and long-lasting relief can be a nice practice-builder!
Desensitizer, Plus More
In 2012, Tokuyama Dental, took desensitizing to another level, providing a protective seal for surfaces that are eroded, worn, hypersensitive, or all of the above. It is unparalleled in the opportunity to protect the patient from additional wear while alleviating pain associated with dentin hypersensitivity.
Shield Force Plus is unique in its formulation as a desensitizing treatment. It is glutaraldehyde-free, with resin-based monomers that interact with calcium ions of the tooth to seal dentin tubules. It penetrates into the dentin up to 50 microns depositing resin tags to prevent the flow of fluids in the tubules, and seals the surface with a light-cured barrier that is 10 microns thick. End result? A solution to protect vulnerable surfaces that have undergone erosion and abrasion and/or hypersensitivity, and it can last up to 3 years before needing to be re-applied. That is correct…3 years!
30 Second Application
Figures 1 – 4 depict the ease of application. The steps are amazingly simple and completed in about 30 seconds per tooth, but it is helpful to have a few tips for cervical application of Shield Force Plus.
Clean the surface with a damp cotton pellet and dry the surface with air syringe, or another cotton pellet, if too sensitive for air.
Open the bottle cap and squeeze out 1-2 drops onto a reservoir. Wipe any excess from bottle and re-seal the cap.
Liberally apply the green-tinted liquid onto the exposed or sensitive tooth surface with a micro brush. Do not burnish.
Allow the Shield Force Plus to penetrate into the surface for 10 seconds.
Engage air syringe outside the mouth to establish a weak flow of air. Apply weak air on the tooth for 5 seconds.
Apply strong air on the tooth for another 5 seconds.
Remove any excess solution that may have collected on the tissue with a new applicator tip.
Hold curing light 2mm from the tooth and light cure for 10 seconds.
Have patient rinse mouth with water.
Use air to ensure tooth is desensitized. If not desensitized to the patient's satisfaction, the process can be repeated.
Educate patient about the benefits of low-abrasive toothpastes and non-acidic beverages to prevent new cervical lesions.
Store remaining product in the refrigerator between uses.
This product provides almost immediate desensitizing upon application and curing. It is fast and easy to apply. It dries clear, but because it leaves a sealed layer that is 10 microns thick, it provides long-lasting protection against additional acidic exposures and wear.
Think Preservation
Non-carious cervical lesions (NCCL) are not always hypersensitive, but that's the beauty of this 30-second application for your patients. Even in the absence of sensitivity, it can be applied to NCCLs to act as a barrier against future abrasion and erosion. Figures 1 – 4 show application of Shield Force Plus on one sensitive tooth; but the patient received the same treatment on 8 other teeth with NCCLs that were not yet sensitive. Patients don't have to wait until the dentin tubules are reactive to benefit from this protection. Be proactive, and think preservation with every assessment. Patients are interested in relief, and protection. Shield Force Plus provides both. Learn more at www.tokuyama-us.com.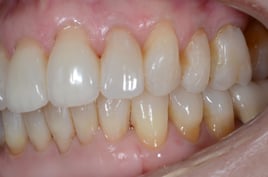 Figure 1.
Non-carious cervical lesions
(NCCLs) #21 is sensitive.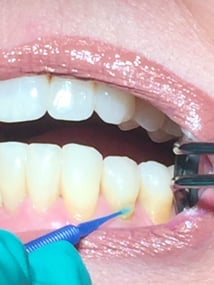 Figure 2.
10-second application
of Shield Force Plus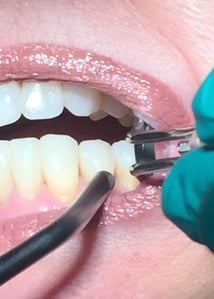 Figure 3.
Air dry 10-seconds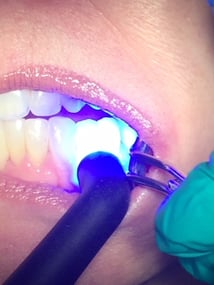 Figure 4.
Light cure 10-seconds.
Shield Force Plus seals clear.